Virtual CFO
Your on-call financial strategist and business development manager – get a fresh perspective on the opportunities and challenges within your business.
Grow your business and your profits – we can be your business mentor, identifying opportunities in your market and building a stronger business model together.
Setting up, Xero accounting training for your team and using it more effectively – we're here to help you get the absolute most from Xero and its add-ons. We're a Gold Xero Partner, and offer Xero courses.
Wondering how to value a business? Find out how much your business is worth, including cash flow forecasting – we can give you an answer and help you sell or transition ownership.
Day-to-day accounting
Know how your business is performing through financial accounting – track revenue and outgoings, cash flow forecast analyse and understand your finances.
Need advice on taxes? Never overpay, never underpay – we really know tax compliance for small business accounting so you're not paying any unnecessary taxes.
Financial statements
Whether you're selling your business, dealing with your bank, or applying for finance, we'll sort out accurate financial accounting statements when you need them.
Verify your records, check your contracts and ensure everything is accurate and correct with our assurance services at our sister company IMA.
No call centres, no call queues
We guarantee to answer the phone immediately and in person during business hours.
Prompt responses 
We guarantee that we will return calls, emails and requests for information from you within 24 hours.
Qualified experts
We guarantee that all your personal and business affairs are taken care of by quality affiliated associates.
Precise timing
We guarantee to advise you when you will have work finalised and presented to you, and to meet that deadline.
IRD immediacy
We guarantee to notify you of any correspondence received from the IRD, or any other reporting agencies, within 48 hours of receiving it.
Price certainty
We will quote for any work before we start so that you do not get a surprise when we send you an invoice. If there are any extra costs, we'll notify you before we do the extra work and get your approval. This way there are no unexpected bills.
Join our Value Builder Programme today
If you were to sell your business today, how much do you think it'd be worth? The answer might surprise you! 
Let our team of Certified Value Builder advisors show you how to exit while you are ahead. You can increase the value of your business by 35% in eight months and we will show you how.
Are you maximising the value of your business?
There are five key drivers that potential buyers are most interested in – and you should always be running your business to optimise these five drivers.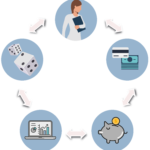 The 5 Steps for getting maximum value for your business.